– represents traditions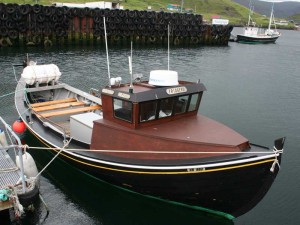 The trip to Vestmannabjørgini takes place in an open Faroese boat of the traditional type – a descendant of the Viking ships. M/B Frígerð is a very seaworthy 32-foot boat (0,971 Danish foot = 0,305 foot) with 130 HP, radar, GPS with video plotter, autopilot, echo sounder, VHF, and mobile phone as well as 6 fully automatic fishing wheels.
Furthermore, stabilizers have been installed to make it friendlier to people suffering from seasickness. M/B Frígerð is approved for 23 passengers by the Government Inspection of Ships. The trip takes approx. 2 hours and 15 minutes. The boat sails close to the coast, between rocks and sheer cliffs and into the caves. The incredible feeling of being one with the impressive and untouched part of nature is an experience for life. The acoustics are great inside the big cave. When Sissel Kyrkjebø visited Faroe Islands, the boat M/B Frígerð was used in a shooting of Vestmannabjørgini, and Sissel Kyrkjebø used the big cave as an outdoor concert hall. You are more than welcome to sing or bring your musical instrument. A pre-recorded video of the trip is available. The movie may also be viewed by request from the captain.