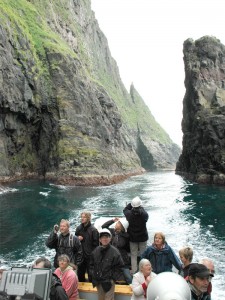 The bird cliffs and grottoes north of Vestmanna are the highlight of our trip to the Faroe Islands. Not only tourists from abroad are impressed, but also a large portion of our visitors are Faroese who bring their summer guests for a fantastic adventure in nature. The experience touches all your senses. The sounds of the sea birds, the whispering of the ocean, and the reflecting water intermingles visually with the shapes of the weather-beaten rocks that rise into peaks and touch the sky. We sail along the rock-wall, into narrow sounds where the cliffs on both sides rise perpendicularly skyward. At the very top, the sheep graze unimpressed by the scenery. As the boat glides into the grottoes, you enter another world for a moment into the darkness and the sounds of dripping water. Suddenly, you reappear on the other side – an experience you don't want to miss. The boat lingers and we enjoy the view. People point at the sights and take photographs, but a photo isn't close to what you experience visually. The photos can record certain details, but cannot capture the entire experience. In the summer we sail until late in the evening, shuttling back and forth between Vestmanna and the bird cliffs. The tour takes a couple of hours and is suitable for all ages. You can just sit down, enjoy the view – and we will serve you coffee and tea on the trip. Our experienced crew will take care of your comfort and safety. Remember to bring warm clothes and dress for the weather.
Bring your music instruments onboard the boat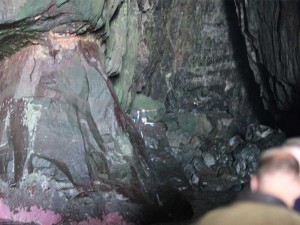 Inside the large grotto the acoustic is excellent. It may be mentioned that when the renown Norwegian singer Sissel Kyrkjebø (watch YouTube Video below) visited the Faroes, Fríðgerð was used for filming the birdcliffs by Vestmanna while Sissel Kyrkjebø sang inside the large grotto.